About Spinal Touch
Spinal Touch Therapy is a painless spinal correction therapy which involves lightly touching the spine. This touch redirects the body's internal energy, causing muscles to relax and gently allowing the spine to assume its normal posture.
Fatigue, pain, exhaustion and disease are directly related to spinal distortion. Stress is a prime cause for such distortion in the body. This stress is brought about by normal events, including short— and long-term illness, pregnancy, depression and personal hardship.
When properly applied, Spinal Touch Therapy has proven most effective in releasing the stress patterns which cause the body to exceed its normal elastic limits. in this release process, the spine naturally corrects any distortions allowing optimal energy flow. Not only will you stand up straighter, but issues of balance and walking are often also resolved.
POSTURE – Key To Health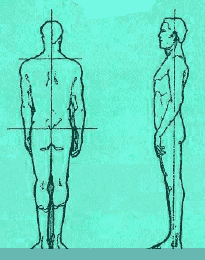 If you're not standing as erect as these drawings illustrate, you could be a candidate for health problems. Are your shoulders and hips level? Would a line down your side connect your ear, shoulder, hip, knee and ankle? Or does your body show hidden signs of distortion and distress?
For more information, please read the Spinal Touch Treatment Brochure below:
PAIN FREE THANKS TO SPINAL TOUCH
For many years I struggled with severe foot pain, pain that would have me in tears by the end of each work day.  My work requires many long hours on my feet so each day would find me either struggling to not cry or crying.  I figured that in a couple of years I would have to give up the work that I love because of my feet.  Spinal Touch and foot supports changed all of that.In June of 2006 I was attending a workshop that Claudia Ragonesi and Judy Milinowski were leading.  We started each morning with Qigong and Dahn, activities which required time standing.  By the end of the exercises on the second morning I was near tears because of the pain in my feet.  Claudia approached me, knelt down by my feet, placed her hands on them and then looked me in the eye.  She said, "I can help you with that."  She told me about Spinal Touch and made arrangements for me to have my first session with her in September.
September 2006 I had three Spinal Touch sessions with Claudia in 10 days.  At the end of the first session she recommended foot supports as a way to assist me in staying aligned and to help alleviate the foot pain.  I was skeptical about the supports as I had tried custom made orthotics a few years before and found no relief.  As a matter of fact, they had increased the level of pain in my hip and I had been told that I would have to live with the pain for a few months until my body got use to the orthotics.  Needless to say I did not continue using them.  But, at $25.00, the supports Claudia was recommending seemed like a bargain, I was definitely willing to get out of pain and I figured why not, plus my body felt so great after that one treatment I really wanted to help it stay that way.
The foot supports worked!  And so did the following two Spinal Touch sessions.  Foot pain gone!  I even felt like walking or dancing after a day's work.  After years of chiropractic treatments every 6-8 weeks with only temporary relief, I could honestly say that my body felt wonderful.  So off I went to Peru in October of 2006 for a two week spiritual adventure that entailed a lot of walking.  My feet held up.  I walked and walked with happy feet.
With periodic "tune-ups" my body remains in alignment.  My feet are happy.  Spinal Touch made such a difference in my life that I became certified to do it in February 2008 and in January 2010 studied Advanced Spinal Touch techniques with Claudia.
Not a day goes by that I am not grateful for Spinal Touch and foot supports and that Claudia reached out to me and shared this beautiful technique.
Sabrinajoy Milbury, Holistic Practitioner
Light All Around
sabrinajoy78@hotmail.com
TESTIMONIALS (Spinal Touch)
Although my family recommended that I see Claudia for help with a number of physical problems, I think it was Divine Power which arranged for her to see me on very short notice! Her treatment began my transformation which continues today.
I was in dire need of a spinal alignment. Through Claudia's Spinal Touch and intuitive gifts, I was able to clear attachments keeping me from moving forward into real health. Her recommendations on changing my life through cleaning up my diet and taking time to exercise helped me to resolve my food allergies, clearing long-standing digestive issues. Her continuing support and suggestions enabled me to lose much weight and greatly improved my overall health. In fact, during our last series of sessions, I was able to successfully lift my bladder and other internal organs, which had been adversely affected by my first pregnancy. These changes brought about an improved physical relationship with my husband, increasing my levels of sensation and enjoyment of marital intimacy. I can't thank Claudia enough for her support and services in my time of need.
I look forward to her continuing guidance with weight loss and I'm sure she will continue to be there in my future endeavors. Thank you God for blessing us with Your love through Claudia's gift of touch and amazing intuitiveness.
~ Belinda, ME; CNA
One of the first things I noticed about Claudia Ragonesi is her fine posture, which is one of her gifts to her clients. She is a master practitioner in Spinal Touch, a gentle therapy which corrects posture and relieves back pain. After a career of working hunched over writing on charts, this therapy has been God Sent, I stand taller, and have no back pain. Unbelievable.
~ Joann Love MD
Normally I struggle through my pregnancies even to the point of causing organs to shut down. This pregnancy I've had the pleasure of having Claudia around. She has been a major support of proper nutrition and physical health. Claudia has provided me with Spinal Touch therapy throughout the pregnancy and that therapy has eliminated nerve stress , lessened hip pain, heartburn and fatigue. I would recommend Claudia's help to any individual especially Spinal Touch therapy.
~ JESSICA POOLER
ELEPHANT BUTTE, N.M.