Welcome to Holistic Universal Healing. The nature of Holistic Healing lies in its approach to physical problems and disease. Rather than approaching health issues by treating the resultant problem, the holistic approach focuses on the cause and the prevention of disease.
Holistic Universal Healing offers a variety of courses, retreats and services, including Spinal Touch Therapy and Training (Painless Posture Correction), Dahn Yoga and Healing (Korean) and Shamanic Practices (training with many indigenous cultures) and Studies.  I am concerned with helping those who are willing to release what no longer serves them on all levels: physically, emotionally and spiritually. I seek to guide those who are ready to go inside and find true self.
I offer Intuitive and Holistic Healing through retreat adventures, training programs and spiritual pilgrimages to sacred sites around the world.
UPCOMING EVENTS:  

Visit "Alternative Adventures" for information on some these opportunities for expansive experience.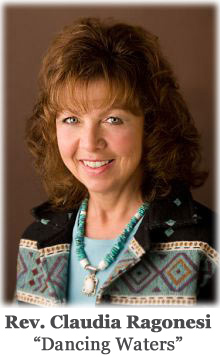 Claudia ("Dancing Waters") is a Holistic Practitioner with certifications in Shamanism, Spinal Touch Therapy, Tong Ren, Qiqong Healing and Korean Yoga. She has trained extensively with many indigenous Medicine Men and Women and has held a private practice in Maine for over twenty years.
Her rich blend of  knowledge and healing modalities offer her clients a range and scope of therapeutic options which incorporate her enthusiasm for the world of nature, ritual and personal transformation.
Claudia's honoring of Mother Earth and service to all brothers and sisters gently encourages their souls to awaken to full purpose in today's world.
She has graduated many people from her two-year intensive Holistic training in Universal Healing bringing together all of her modalities into a unified practice.  This training, as well as the Spinal Touch Practitioner course are certification classes and Claudia's Spinal Touch class now meets CEU requirements with the National Certification Board for Therapeutic Massage and Bodywork (NCBTMB).

Please read some testimonials given below.
Click number on bar to view more.